---
---
Yoga Brings a Multitude of Benefits to Children
30th November 2017
Tree House St Kilda has been omming their way to more zen place with regular yoga sessions at the centre. Centre Manager Kate Wallman says the idea came about through the interest of a few educators who were practicing yoga in their own time. Since launching at the centre in 2016, the yoga sessions have been hugely popular with both children and educators. Each yoga session goes for around 20 – 30 minutes and 30 – 45 minutes for the children in the Kinder room.
Many of us know the benefits of practicing yoga for adults, but what about the benefits for children? The childcare centre in St Kilda brings in Sarah Blangiardo from Move + Make Yoga to run the yoga sessions for children of every age. According to Sarah, there are many, many benefits of children practicing yoga.
"Children's yoga is hugely beneficial for their growing bodies and more importantly their developing minds," she says.
Kate adds, "The children are discovering new ways of expressing themselves and developing mindfulness that carries on through their other learning experiences."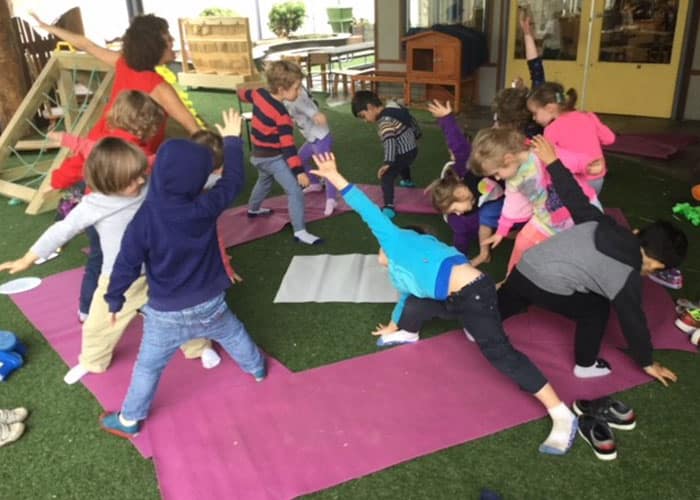 Here are some more benefits of yoga for children according to Sarah Blangiardo:
Self Regulation
Children learn how to monitor their own emotions and behaviour by being quiet, mindful and respectful both on and off the mat.
Respect
"Our only rule is respect and I touch on this in our first session," says Sarah. "Children as young as three learn to listen and participate during all our sessions. Their focus has vastly improved over the year."
Increased Confidence
Sessions build confidence slowly each time. Each child is encouraged to interact with the group by inventing yoga poses or speaking in loud voices to share a wish, a dream or a story. Sarah says, "I have seen really shy children blossom over the year into confident and engaged little ones."
Connection
"We practice in a circle at every session, this encourages eye contact with one another and also the beauty of touch. We always start with a connection experience which helps the children feel like they are together – just like a family. This builds a sense of belonging which is one of Move + Make's values. When we connect we feel like we belong," shares Sarah.
Relaxation
During the sessions, Sarah shows all children how to breathe probably using different methods which are called 'Yoga Breaths'. "It's amazing to watch the children really relax and calm their body and mind using their own breath. When they use these methods it prevents their reactions and they approach situation with ease," says Sarah.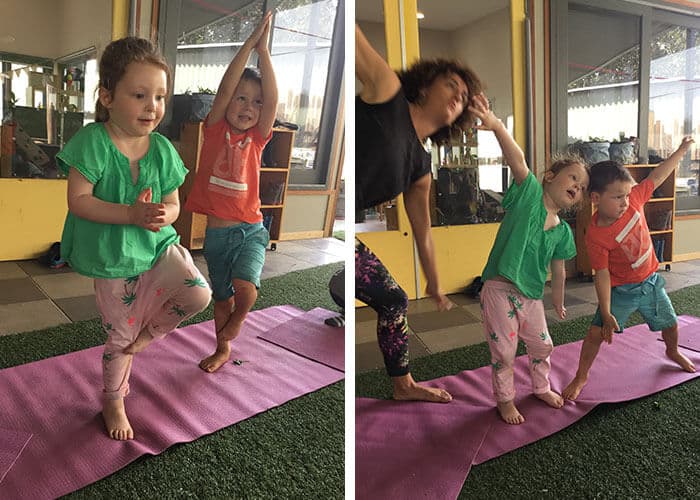 From downward dogs to tree poses, when asked what pose is the children's favourite, Sarah shares, "Happy baby pose – and it's no wonder with a name like that!"
For those who aren't familiar with yoga poses, happy baby is where you lie on your back lift your legs up and hold your feet. When you've got a hold of your feet you rock from side to side. "The children laugh and giggle whilst making eye contact with each other. They could stay in this position for the entire class. It's beautiful because they are not only stretching but also connecting and communicating with each other."
"We are really happy with the way the children have responded to the sessions. Move + Make provide sessions that encourage imagination, creativity, confidence and trust. It's been really beautiful to watch the children evolve over time," beams Sarah.
Learn more about Tree House St Kilda
The team at this early learning centre in Melbourne are a diverse range of individuals who bring their culture, experience and passion to the centre. Many of the team live in the community so you can often spot them at the local fete, cleaning the beach or at the shops.
Besides yoga, Brady and Nicola the educators in the three to four-year-old rooms teach them Mauri and Brinda one of our ECTs in the four to five-year-old room teaches them French. The centre also runs an indoor/outdoor program with huge beautiful outdoor areas such as woodwork, mud pit, sandpit, chicken coop and much more.
Children love the food that's been lovingly created by Andrea, the on-site chef who has over 20 years experience. She created healthy and delicious breakfasts and snacks which sustain children throughout the day.
To learn more about Tree House St Kilda, head here.
---
Looking for the right Childcare Centre for your Family?
Submit your details and a member of our Concierge Team will be in touch to discuss what you need and how we can help you experience something more than childcare.

We'll be in touch soon.