---
---
Guardian Centres Participate in Fiver for a Farmer
21st August 2018
With the ongoing drought causing huge issues for our farmers, many Guardian centres decided to help by participating in "Fiver for a Farmer" – an idea generated by a child in NSW that turned into a national campaign. We asked a few Guardian centres from across Australia about what they did to participate and how the children responded to the Fiver for a Farmer campaign. Here's what they said…
Acre Woods Pymble, NSW
Acre Woods Pymble's Centre Manager, Kylie Davenport's reason for participating was fairly personal. After talking to a friend who lives in Dubbo and hearing about the hardship people in the area were facing, Kylie decided that they as a centre should do something about it.
"The issue with the drought then became very big in the media and I thought it was time for us to do something, not only to support our farmers but to make our children aware of what is happening in our wider community," says Kylie.
"An event such as this will contribute to our children's development and understanding of many things (for example where does our food come from, weather cycles and the impact these can have) as well as encouraging them to develop a sense of community as well as understanding the importance of helping others when things aren't going well for them."
On the day, children were invited to come to the centre dressed up as a farmer and make donations in the boxes. Families were also encouraged to send in any photos they had of their child visiting a farm which were displayed on the wall in the hallway alongside drawings the older pre-schoolers drew.
Acre Woods Pymble has a great relationship with a nearby café – Goodies Café – who agreed to let the preschool children come in and collect donations. The café got on board with this and also donated $1 from every hot drink sold on the day to their fundraising efforts!
Kylie says, "The children were very excited about their trip outside the centre, and it was great to see their confidence build as they started to get donations in their boxes. The people we approached were amazing, many of them trying to find four coins, so they could add money to each of the children's boxes."
So far they have raised over $870, which is a huge effort!
"It is great to see our children developing as global citizens and taking an interest in what is going on in the world around them. My favourite question a child asked was 'Why are we raising money, because money can't make it rain?' – what an amazing thought from a 4 year old!" says Kylie.
Brassall Early Learning Centre, QLD
Brassall Early Learning Centre chose to participate in the program because some of their families have local farms or farms that are struggling. Educational Leader Anna says that as a centre they strongly believed it to be a worthy cause. "If we can raise some money whether small or large we can feel like we have been part of this change," she says.
As part of the week, educators and children spent time exploring farm animals and learning about farms. The older rooms watched educational videos about farms, the drought and the impact no rain is having on our farmers.
The Kindergarten children wanted to draw their own understandings and representations of the farm from what they had just watched. "We have also been exploring what happens when things don't get watered compared to those that do with our seedlings project," adds Anna.
Guardian Early Learning – Caulfield North, VIC
The children at Guardian Early Learning – Caulfield North decided to make some special treats to raise money for the farmers. After watching a news story about the drought, the kinder children had a long discussion about the drought, farmers and what donations could do to help. From this, they chose to bake muffins to sell and give the money raised to the farmers.
"I think we need to sell the muffins and the money can give to farmers". – Ilya
"We can use the money to buy water to help farmers". – Aarav
"We need to save water!" – Chloe & Sebastion, M.
From this experience children had a chance to touch and taste different ingredients and flavours, and explored why oil floats on the water. Centre Manager Brooke Garwood says, "Everyone enjoyed and engaged in the cooking experiences. The children also enhanced their physical and problem solving skills too."
Guardian Early Learning Centre – Wanniassa, ACT
Our centre in Wanniassa made the local news with their Fiver for a Farmer efforts. Watch the short clip here.
King Street, QLD
At Guardian Early Learning Centre – King Street, a few of the centre's families own farms and spend their weekends there. A few families asked if the centre was participating so, after talking about it as a team, they decided Fiver for a Farmer was a great cause to get behind.
Children dressed up as farmers on the day and the centre took donations all week which raised about $200. Centre Manager Melissa Hunt says there were many discussions that came out of this campaign including the role of the farmer and what would happen if we couldn't feed the cows. A few of the centre's children even visited The Ekka and chatted to farmers directly about what they do and where they live.
Guardian Early Learning Centre – Marrickville
The children and educators at Marrickville raised $385 for the farmers. On the day they dressed up and worked on their writing skills by creating signs.
Bird House Early Learning Centre – Hornsby, NSW
The children at Bird House Early Learning Centre got a very special feature in the Hornsby Advocate showcasing their drought efforts. Read the article below.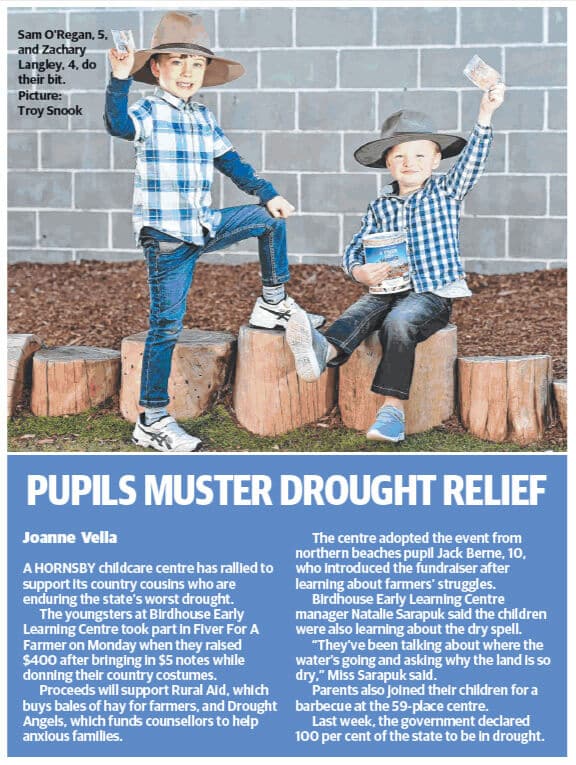 Playdays Kellyville
As part of the Fiver for a Farmer campaign, the children and educators at Playdays Kellyville had a scarecrow competition that required children to reuse things from around their rooms or yard to create a scarecrow for their garden.
Centre Manager Rebecca Tooney says, "The Bumblebees and Butterfly 1 are the proud owners of the winning scarecrow which is the tall scarecrow second from the left."
And the amount raised for the farmers? "As a centre we raised $631.00!" proudly states Rebecca. Well done, Playdays Kellyville!
---
Looking for the right Childcare Centre for your Family?
Submit your details and a member of our Concierge Team will be in touch to discuss what you need and how we can help you experience something more than childcare.

We'll be in touch soon.